HYDERABAD
: As top health experts warned the Centre about an inevitable third wave of coronavirus, the Telangana health authorities on Tuesday said they are gearing up to counter the possibility after learning from past mistakes.
Days after principal scientific adviser K Vijay Raghavan said that the high levels of the virus circulating in the country shows signs of a third wave coming, state health officials said they are gearing up to meet the challenge. "During the first wave in the state-run hospitals there only 18,000 beds and now the number has gone to 53,000 beds. Realizing the importance of the oxygen supply, we are planning to have cryogenic tankers soon, so that hospitals will not have any problem," a top health department official told TOI.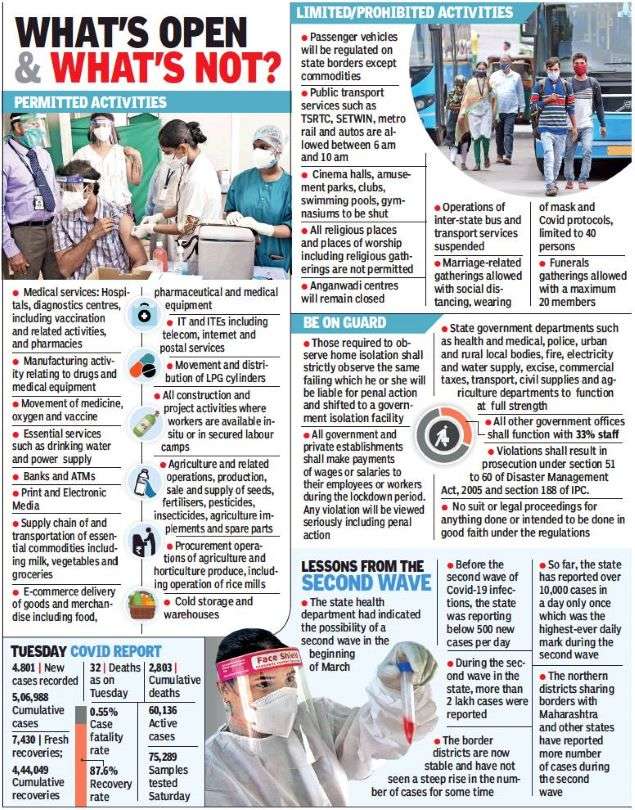 In a high-level review meeting, authorities said the third wave may be intense and the intensity can be reduced only with the help of vaccination. "We have a roadmap ready. As part of it, more staff are being recruited, and at primary health centre and mandal levels, infrastructure will be improved," an official said.
The main concern during the second wave was higher caseload not only in Greater Hyderabad Municipal Corporation (GHMC) areas, but also in the many towns, especially where polls were conducted. Realising the importance of completing the vaccination, global tenders are being called, and about ₹10 crore has been paid to Bharat Biotech and Serum Institute of India for more vaccine supplies.
"If vaccination is not completed at a faster pace there can be more restrictions in the state on the moment of the people," said one official. The proposed plan involves strengthening mechanisms up to the district levels. The health department will continue to focus on tracing symptomatic people and start giving them treatment even if they are tested or not.
Source link