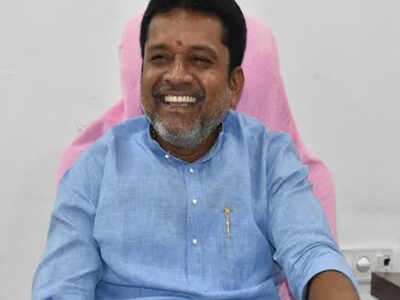 Putta Madhu (in the picture) is a close associate of former Telangana minister Eatala Rajender
VISAKHAPATNAM: The zilla parishad chairman of Peddapalli district, Putta Madhu, was reportedly arrested by Ramagundam special police party at Bhimavaram town in West Godavari district of Andhra Pradesh.
Madhu is a close associate of former Telangana minister Eatala Rajender, who was sacked by the Telangana CM K Chandrashekhar Rao following the allegations of land grabbing issue.
It is recalled that the former MLA of Manthani, Putta Madhu, reportedly went missing after leaving his gunmen at Manthani since May 1 and there was no missing complaint from the family. He was missing since the land grabbing issue of Telangana minister Eatala Rajender has come into light.
There were allegations that Madhu was involved in the high court advocate couple Gatt Vamana Rao and Nagamani murder at Kalvacherla of Ramagiri mandal Peddapalli district on February 12. Cops arrested his nephew Bittu Srinu in the murder case.
Interestingly, Madhu's wife stated that he was in Hyderabad for a personal work, while his followers including ZPTCs and MPTCs said that the leader had gone to Maharashtra. But Madhu was arrested in Bhimavaram town on Friday, police sources said.
"Special police teams from Ramagundam and other places have come here in the last two days. They informed us that they are searching for a most wanted accused. But they have not disclosed the name or the case. We are also hearing the news of the arrest of a TRS leader. There is no confirmation till the hour," the Bhimavaram Two Town police station inspector Vijaya Kumar said.
Sources said that he was lifted from a hotel where he was staying for the past few days. His phone was switched off since he went missing. But Telangana cops tapped the phones of his family members, relatives and close aides. They got the information about Madhu through phone call conversations between them.
Four special teams were pressed into action to nab him. One of the teams reached Bhimavaram and informed the local cops and took his custody.
The higher officials of West Godavari district are tight lipped over the issue.
"They left Bhimavaram 24 hours ago and they might have reached Ramagundam by this time. The accused is not a local man. So, there was no need to produce the accused in local court and take the transit warrant. They may show his arrest in Telangana. Often, this kind of technique would be used by the cops," on condition of anonymity one of the senior police officers said.
FacebookTwitterLinkedinEMail
Source link