[ad_1]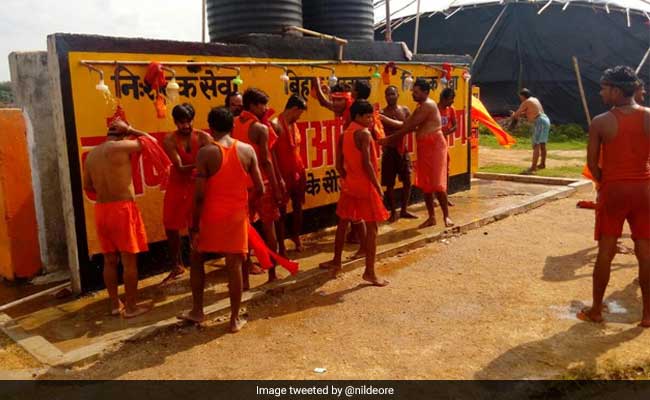 New Delhi:
Citing that the health and "right to life of citizens is paramount", the Supreme Court today asked the Uttar Pradesh government to consider not holding even a "symbolic" Kanwar Yatra in the state in view of COVID-19. "All other sentiments whether be religious is subservient to this basic fundamental right," the bench comprising Justice RF Nariman said.
"We are of prima facie view that it concerns all of us and is at the heart of the fundamental right to life. The health of citizenry of India and right to life is paramount, all other sentiments whether be religious is subservient to this basic fundamental right," Justice Nariman said. The next hearing is set for Monday.
The court said that it will be forced to pass an order if the Yogi Adityanath government failed to reconsider its decision to hold the yatra.
"We can give you one more opportunity to consider holding yatra physically at all. This or else we pass an order. We are all Indians and this suo motu has been taken up as Article 21 applies to all of us. Either you reconsider to have it at all or we deliver," it said.
The top court's direction came after the Uttar Pradesh government told the bench that it has decided after relevant discussions to hold a "symbolic" Kanwar Yatra with appropriate Covid restrictions.
"The UP disaster Management Authority discussed this issue and said those who undertake yatra must be fully vaccinated. Gangajal is being kept at tankers at locations," Uttar Pradesh government's lawyer CS Vaidyanathan told the court. 
To this, Justice Nariman, heading the bench, said, "We all are citizens of India Article 21- right to life applies to all. UP cannot go ahead with physical yatra".
Solicitor General Tushar Mehta for the Centre told the top court that states shall not be allowed to hold Kanwar Yatra in view of Covid and arrangements for Ganga water should be made by tankers at specified places.
Earlier this week, the Supreme Court had issued notice to the Uttar Pradesh government over its decision to allow the Kanwar Yatra.
The court, which took up the matter suo motu, said citizens were "perplexed" by the the yatra being permitted at a time when Prime Minister Narendra Modi and medical experts have warned against large gatherings and urged people to follow social distancing and other Covid protocols.
 The Yatra had been cancelled last year, too, amid the first wave.
Every year, an estimated 30 million Kanwariyas (devotees of Lord Shiva) from various northern states travel on foot or by other means to collect water from River Ganga at Haridwar to offer at Shiva temples in their areas.
The fortnight-long yatra, which begins with the onset of the month of Shravan, around July 25, and goes on till the first week of August, sees Kanwariyas from Uttar Pradesh, Haryana, Punjab, Delhi, and Himachal Pradesh gathering in Haridwar.
[ad_2]

Source link