[ad_1]

HYDERABAD: Come Thursday, property buyers in
Telangana
will have to shell out more towards
registration
charges as the state government has enhanced the basic value of registration of agriculture land and non-agricultural properties like plots and flats between 30% and 50% on the existing rates.
The government is hoping to earn about Rs 12,000 crore from the enhanced charges in the current financial year.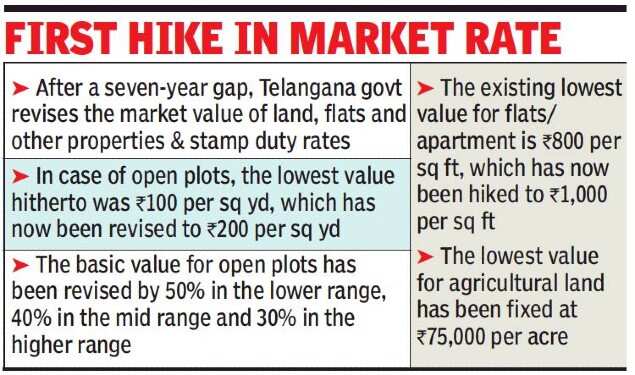 The state has also jacked up registration charges and stamp duty to 7.5% from existing 6%, which will come into force from July 22. A GO on revised basic values and registration charges was issued on Tuesday.
Following the revision, the basic land value in the upscale Jubilee Hills will go up to Rs 67,750 per square yard from the present Rs 52,000 for property registration. Similarly, the existing basic value of land in Madhapur will go up to Rs 28,000 per square yard from Rs 20,000 and to Rs 21,000 from Rs 15,000 in Gachibowli and Kondapur.
In property hotspot areas like Banjara Hills, Jubilee Hills, Madhapur and Kondapur, the registration rates had been enhanced to 40% where the land values are already high. In the eastern part of Hyderabad such as Uppal, Peerzadiguda, Boduppal and other parts like Qutbullapur and Suraram, the registration rate has been increased to 50%.
The government also fixed the lowest value for registration of agricultural land at Rs 75,000 per acre. For the purpose of easy revision of rates, properties have been divided into categories such as GHMC, HMDA, urban development authorities, municipal corporations, municipalities and villages and further divided into higher, mid and lower ranges.
For agricultural land, the existing values have been enhanced by 50% in lower range, 40% in mid range and 30% in higher range. Similarly, for open plots, the basic values have been revised by 50% in lower range, 40% in mid range and 30% in higher range.
The lowest value, which was Rs 100 per square yard, has been revised to Rs 200 per square yard.
The existing lowest value for a flat in an apartment complex, which was Rs 800 per square ft, has now been revised to Rs 1,000 per square ft. In case of flats/apartments, the increase is by 20% in lower range and 30% in higher range, the GO said.
Officials of the registration department said all the registrations which take place on or after July 22 will be done as per the new rates even if slots had been booked before and payments made. In instances where the payments had been made for registrations and slots were booked for July 22, a module titled 'additional payments for slots already booked' has been made available in Dharani portal for making the extra payment. "The differential amounts can be paid and transactions carried out on the slotted day," the officials said.
[ad_2]

Source link