[ad_1]

HYDERABAD: With
monsoon
intensifying across the state, there are still about 350 old and dilapidated
buildings
that are waiting to cave in at any point of time during the rainy season in
GHMC
limits.
Activists and residents in some of the areas said that no action is being take to either demolish, repair or vacate the structures that are structurally unfit from several years.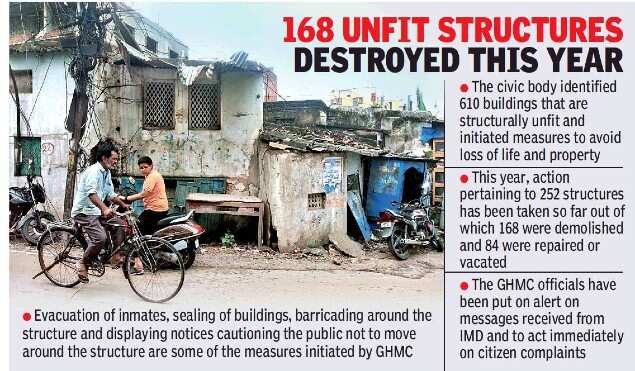 "I have raised two complaints about a few old and dilapidated structures in Fateh Darwaza area about a week ago after which I received a message with reference ID saying that the issue will be resolved shortly. However, no action has been initiated till date. The officials should at least visit and inspect these buildings to assess the situation," Mohammed Ahmed, a social activist.
Last year, out of the total 642 dilapidated structures, 231 were demolished and 129 were either repaired or vacated. Therefore, the remaining 282 were added to this year's list of 610 structurally unfit buildings. Going by this data, another 150 to 200 old buildings are likely to be added this year to the existing list.
The situation is despite two persons being killed and five others including two children sustaining injuries when an old building partially collapsed at Hussaini Alam last year.
"Leave alone demolition, the authorities haven't even served notices to the owners of some houses that are about 70 to 80 years old in Himatpura and Dhoodh Bowli. Most of these houses have massive cracks and look like they might fall apart with a single spell of heavy rain," said Shankar Yadav, a resident of Himatpura.
Meanwhile, the GHMC's town planning wing, which carried out a few demolition activities in Chudi Bazaar, Shastripuram and a few other areas on Tuesday requested the residents to cooperate with the officials to avoid any untoward incidents during rains.
"We have already served notices to residents where we need to conduct the special drive to demolish, repair or vacate the buildings. In some cases, people are asking for time because they do not have an alternate place to stay, while some of them are reluctant to vacate despite serving notices," said K Mallikarjuna Rao, deputy city planner, GHMC.
"There are also some issues due to disputes between owners and tenants, where tenants are not vacating the premises on time. So, we are going as per procedure and seeing to it that these issues are resolved at the earliest," added Rao.
[ad_2]

Source link